What is
Social Media Marketing?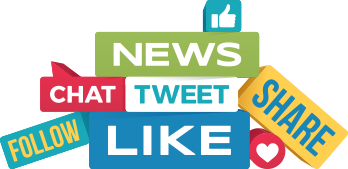 Social media marketing allows businesses to promote their products, services, image, brand, and culture in a more personable setting than traditional media channels. Social media marketing platforms can gather a lot of information about consumer interests and demographics, which allows businesses to accurately target the right people with the right message. People can also ask questions or voice concerns directly to your business, allowing you to gather valuable feedback. When executed properly, a company can drive more traffic to its social media marketing platforms and website to position itself in becoming a leading authority in its industry.
Benefits of Social Media Advertising
One of the main benefits of social media marketing is that it can increase sales and revenue. There are many ways that businesses can use social media advertising to sell their products and services directly on social media platforms. In addition, they can write engaging posts that link to their products and services, special promotions, and coupon offers.
Another benefit is that it is an excellent way to introduce people to your brand. If people are unaware of your business, they will never shop there. Because many people are on social media sites, it is an effective channel to promote and legitimize your brand to potential customers.
The third benefit of social media advertising is that it can increase customer service. Because people use social media to ask customer service questions, it is an important reason for businesses to ensure customers that they can help them through social media. When consumers shop online, a key concern is the responsiveness of customer service. People want to be assured that if they have a problem, they can easily get help. By being receptive to customer needs, businesses can increase customer loyalty.
Social Media Marketing Needs Constant Managing
Social media marketing provides instant access to attentive consumers in an environment that people visit on a regular basis. A strong social media presence will help you stay viable against your competition. However, managing and monitoring social media marketing platforms can take away a lot of time from other important aspects of running your business. Poor social media marketing can also delegitimize a brand. If a customer logs on to a business' social media page and finds that there aren't any recent posts, that customer may assume that the business has shut down. If customers' comments are being ignored, they may assume the company has poor customer service.
Social media marketing takes a continuous commitment that every business needs to do and needs to do effectively.