What is
Reputation Management?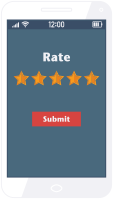 Do you know what people are saying about your company online? Online reviews and posts about your company can help with your search engine optimization. However, negative reviews from unsatisfied customers, competitors, and disgruntled former employees can destroy your online reputation and your brand. It also can deter potential customers from doing business with you. Reputation management can reduce the damaging impact of negative reviews and posts about your business and build brand awareness.
Why Reputation Management Is Important
When it comes to reputation management, time is of the essence. Customers, business associates, and employees are evaluating your business with what appears online. You need to act now to make sure that people form the right opinion about you and are not misled by negative content.
With reputation management, knowledge is power. Even if your online reputation is not where you'd like it to be, it's always better to know what people are saying about you rather than wonder or ignore the reality. Constant search engine algorithm changes mean that search results are constantly shifting, and online reviews and posts that were once buried might now be at the top. Furthermore, new content pops up all the time, so there may be new articles, photos, and social media posts that you weren't aware of before. That's why it's important to stay on top of your online reputation with regular assessment and monitoring. Doing so can help you identify and address any reputation problems or shortcomings before they spin out of control.
Source: www.reputationmanagement.com
Online Reputation Takes Continuous Effort
With so much to consider, reputation management can be overwhelming. In addition, doing this by yourself is inefficient and time-consuming. Managing and monitoring your online reputation takes continuous effort, and often cannot be repaired with quick fixes. Because many businesses have a complete lack of proactive reputation management, this leaves them in a vulnerable position false perceptions from current and potential customers.
Reputation management has been a growing segment of online marketing for years. If a business doesn't invest in developing their online presence and respond to online reviews, they will likely pay considerable costs later regarding repairing their brand, recuperating and reinventing their image.